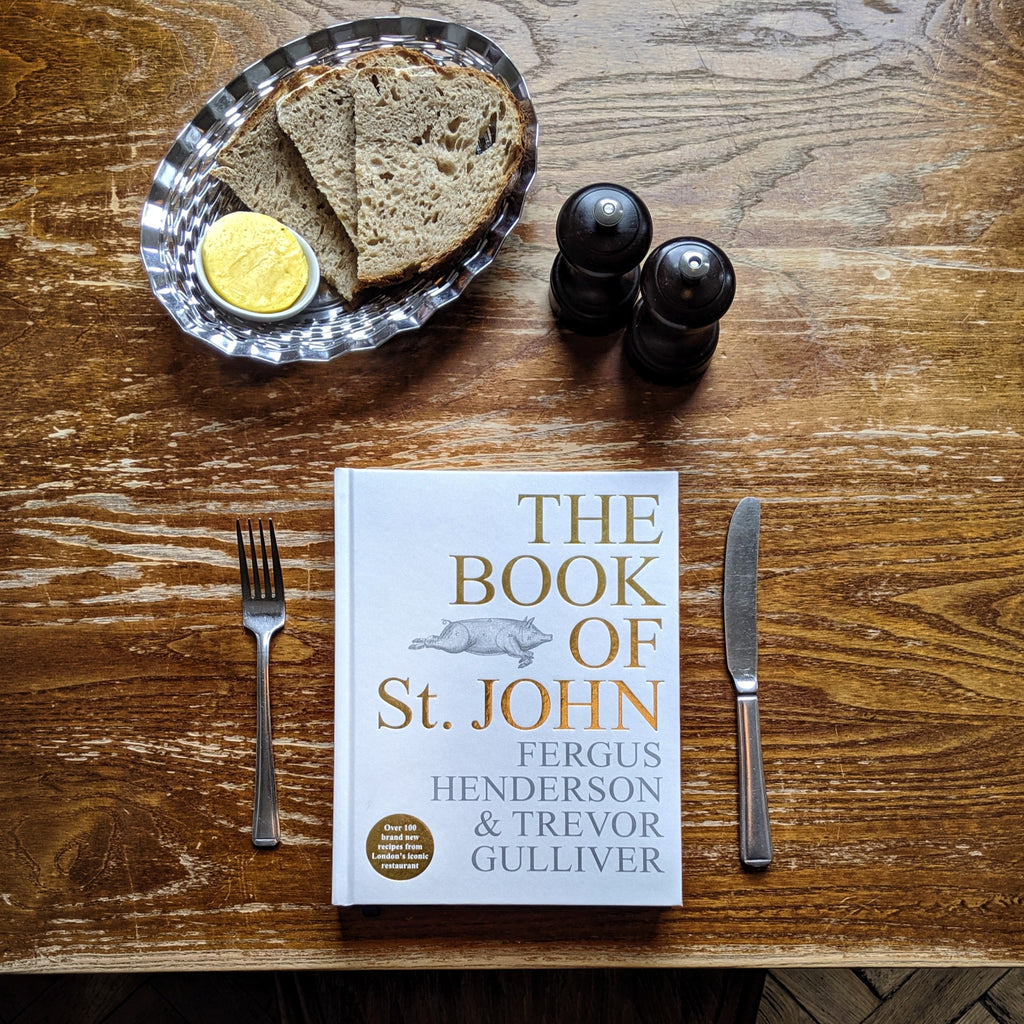 THE BOOK OF St. JOHN
The Book of St. JOHN by the inimitable Fergus Henderson and Trevor Gulliver includes over 120 joyous recipes, (almost all never-before published) from their world-famous restaurant. 
In 2019 – happily coinciding with the Year of the Pig – St. JOHN and its iconic brand are celebrating 25 years of unforgettable, pioneering food. For a quarter of a century, Fergus and Trevor have been serving up food that is as elegantly simple as it is heartfelt and generous. At once ever-evolving and steeped in tradition, theirs is a true celebration of British ingredients.
Told with trademark verve, The Book of St. JOHN captures the unique and distinctive spirit of the original pioneers of nose-to-tail cooking, and provides a unique insight into one of the cornerstones of the British restaurant scene. 
Along with photographs by Jason Lowe and illustrations by Fergus himself, the extremely user-friendly recipes demystify disconcerting processes such as offal butchery and in other cases detail the classic recipes at the heart of St. JOHN repertoire simply explained for the home cook.
The book is structured to mirror the practices and rhythms of the St. JOHN kitchen and so begins with 'The Pivotal Pig', a whole chapter dedicated to understanding the true nature of the nose-to-tail animal. From butchery to stocks, braise and brine, this section takes you through the foundation stones of St. JOHN's kitchen working practices leading you to must-make recipes like Grilled Lambs Hearts, Peas and Mint; Ox Tongue, Carrots and Caper Sauce and Beef Mince on Dripping Toast.
However, St. JOHN is about more than meat. The extensive repertoire of fish and vegetable recipes is well covered, including a chapter on creating bounty from a well-stocked store, featuring recipes for the essential Master Pickle; The St. JOHN Chutney; A Universal Jelly and Lentils. 
Puddings are vital at St. JOHN and celebrated as such with recipes for comforting classics like 'Steamed Syrup Sponge, Sherry Trifle and Peach Cobbler. All to be served with ice cream, custard or cream. That is non-negotiable.
At St. JOHN, every moment of eating and drinking, however modest, is an expression of possibility and potential. Nowhere is this more evident than in the chapter celebrating breakfast, lunch, dinner and of course all those moments to savour in-between; eschew the eleven o'clock biscuit tin and reach instead for a piece of Seed Cake and a glass of Madeira.
And finally we finish with a chapter dedicated to feasting – occasions to mark friendship and the passing of time – complete with menus for birthday lunches, an outdoor fete and of course a St. JOHN Christmas feast.
---