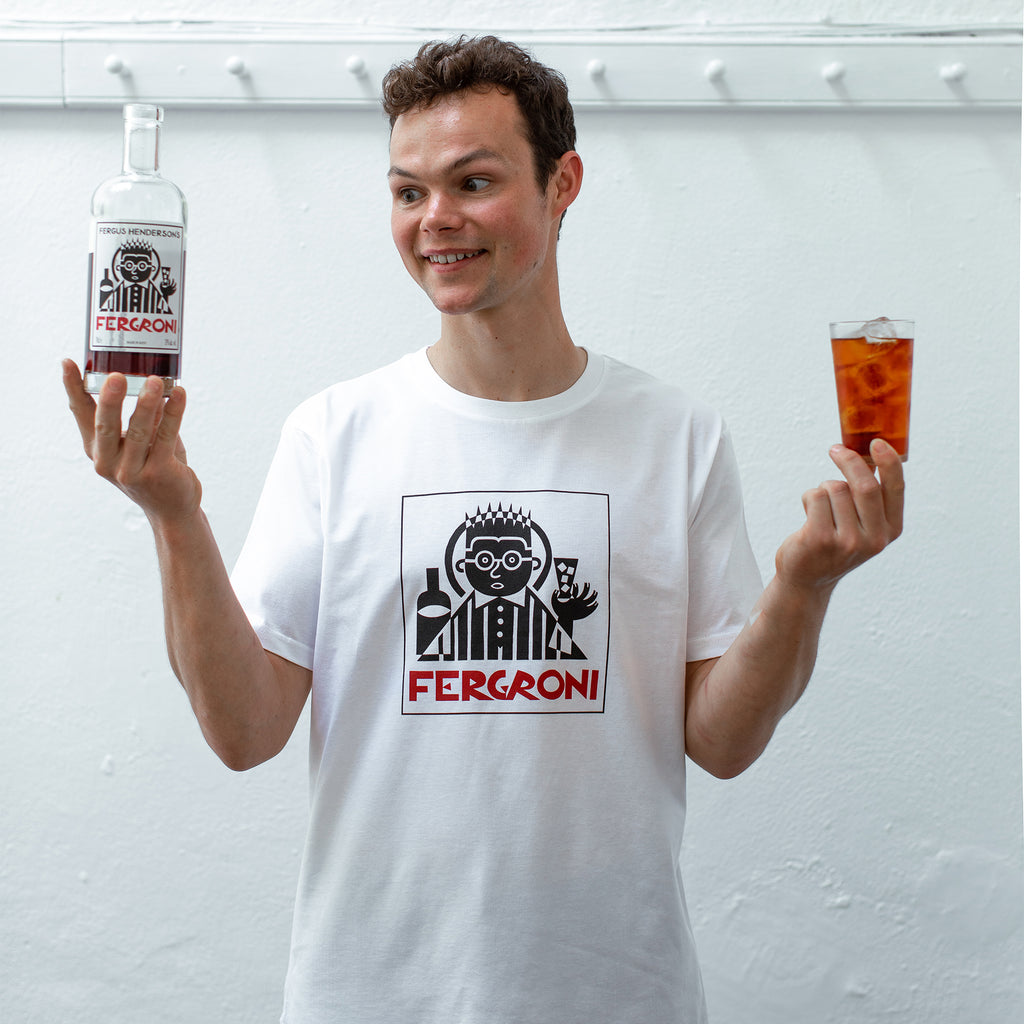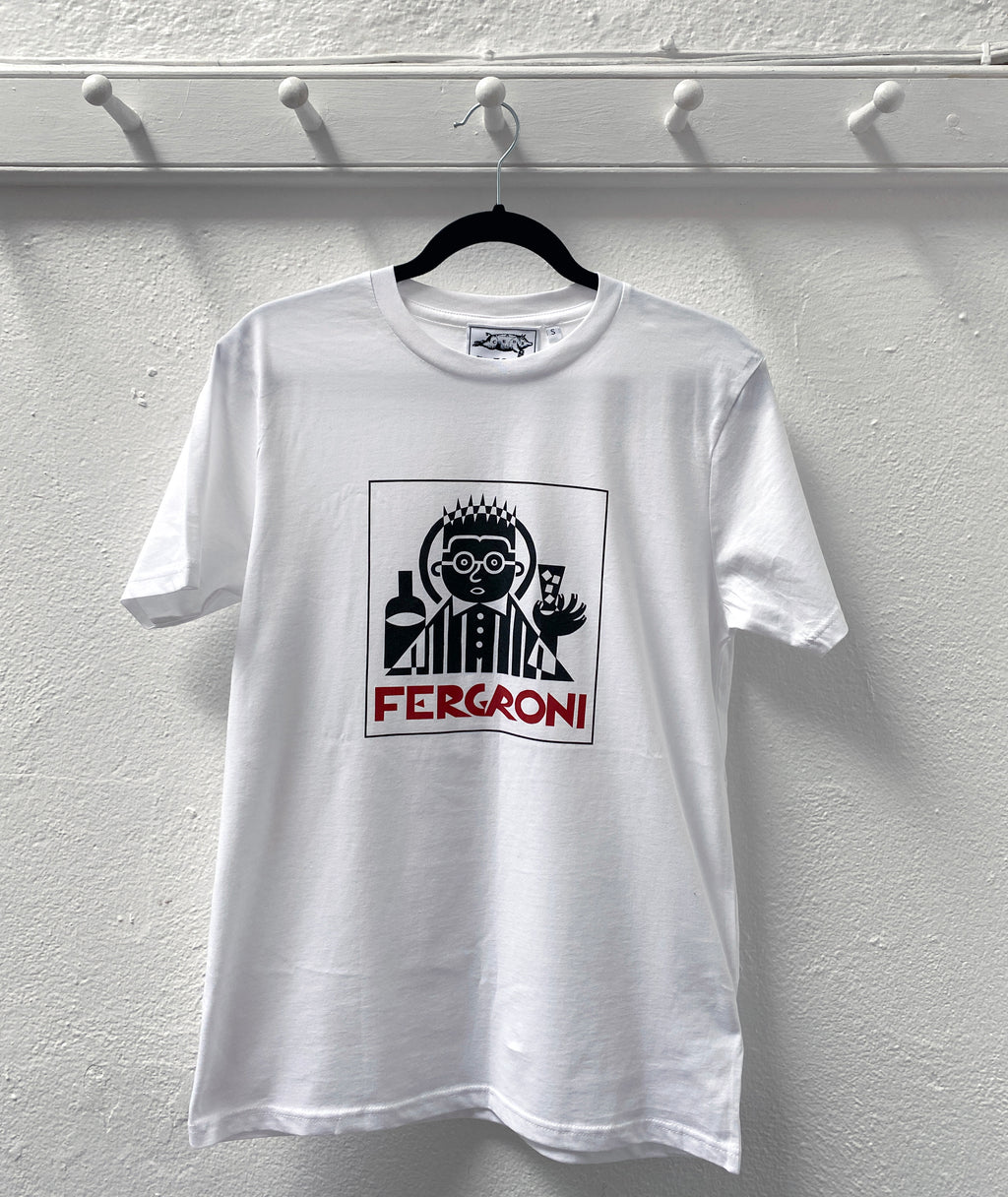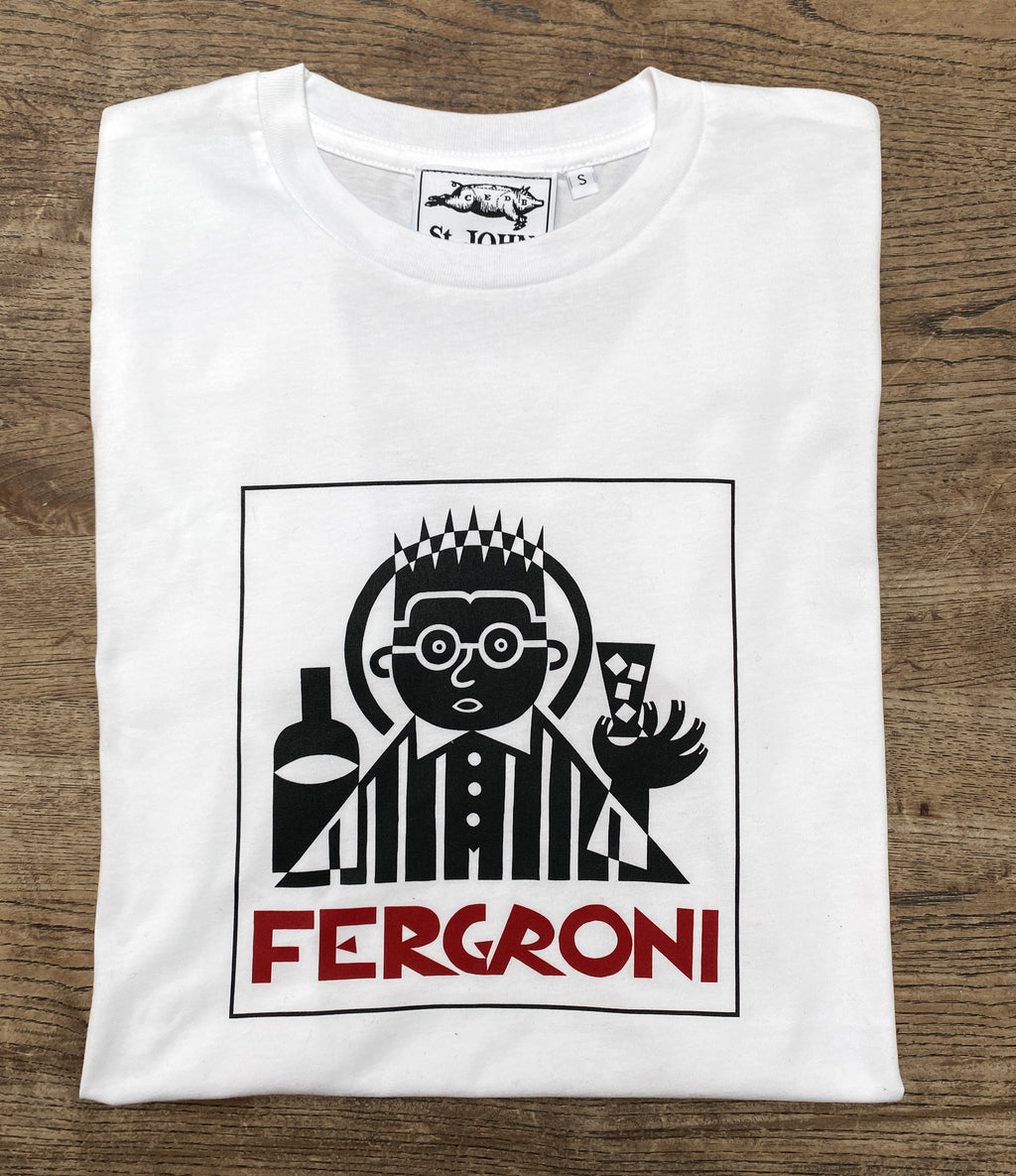 FERGRONI T-SHIRT
 Proclaim your love of The Fergroni, for the world to see!
At St. JOHN we serve two types of Negroni. There's our classic version, and there's the Negroni that isn't on the menu, made just how Fergus drinks it. We call this recipe the 'Fergroni' and, in celebration of our quarter-century, we bottled this glorious concoction.
The label of our Fergroni riffs on the Depero-designed Campari posters of the 1920s, re-imagined to reference another design classic – Fergus Henderson's round spectacles and stripy suit.
Now printed on a beautiful t-shirt made using the softest organic fair-trade cotton, manufactured solely using renewable green energy from wind and solar power.
Freddie wears a unisex size Large; sizes are detailed below:
Small: 50cm chest / 70cm length
Medium: 53cm chest / 72cm length
Large: 56cm chest / 74cm length
X-Large: 60cm chest / 76cm length
XX-Large: 64cm chest / 78cm length
XXX-Large: 68cm chest / 80cm length
Fergus Henderson describes the perfect Negroni: "When I was younger I lived in Florence in a vain attempt to learn Italian. After appalling results I was called home. On my final evening it seemed right to head to my favourite bar (sadly no longer there), and that night the barman seemed to understand and capture my mood in his execution of the Negroni. Something mystical happened, a magic of sorts, and that evening I learnt a little more about what a Negroni should be".
** OVERSEAS CUSTOMERS PLEASE NOTE ** - We are unable to ship alcohol overseas, so if your basket contains both a t-shirt and alcohol then shipping will show as unavailable. Sadly you will have to remove the cocktail from your basket to continue!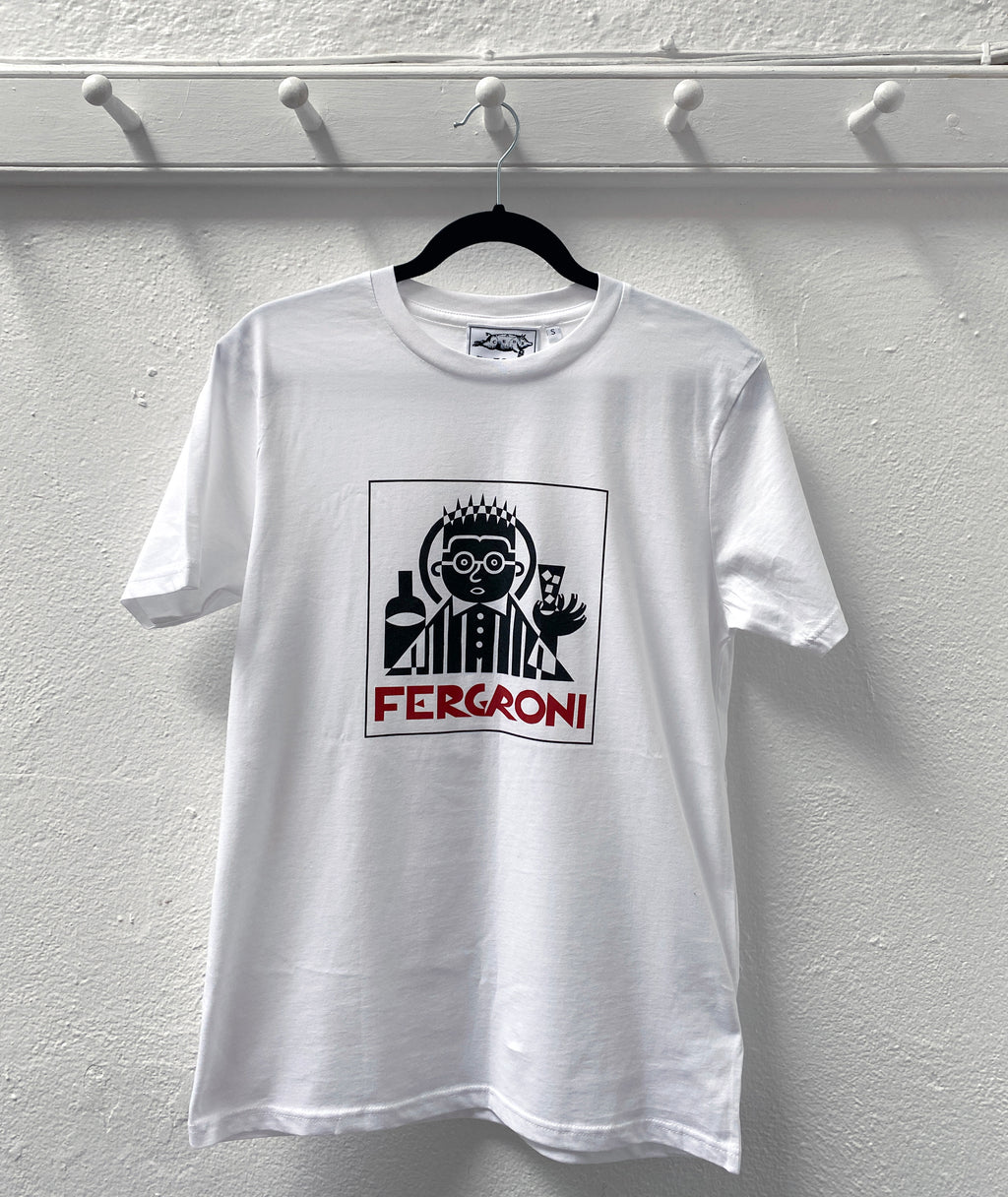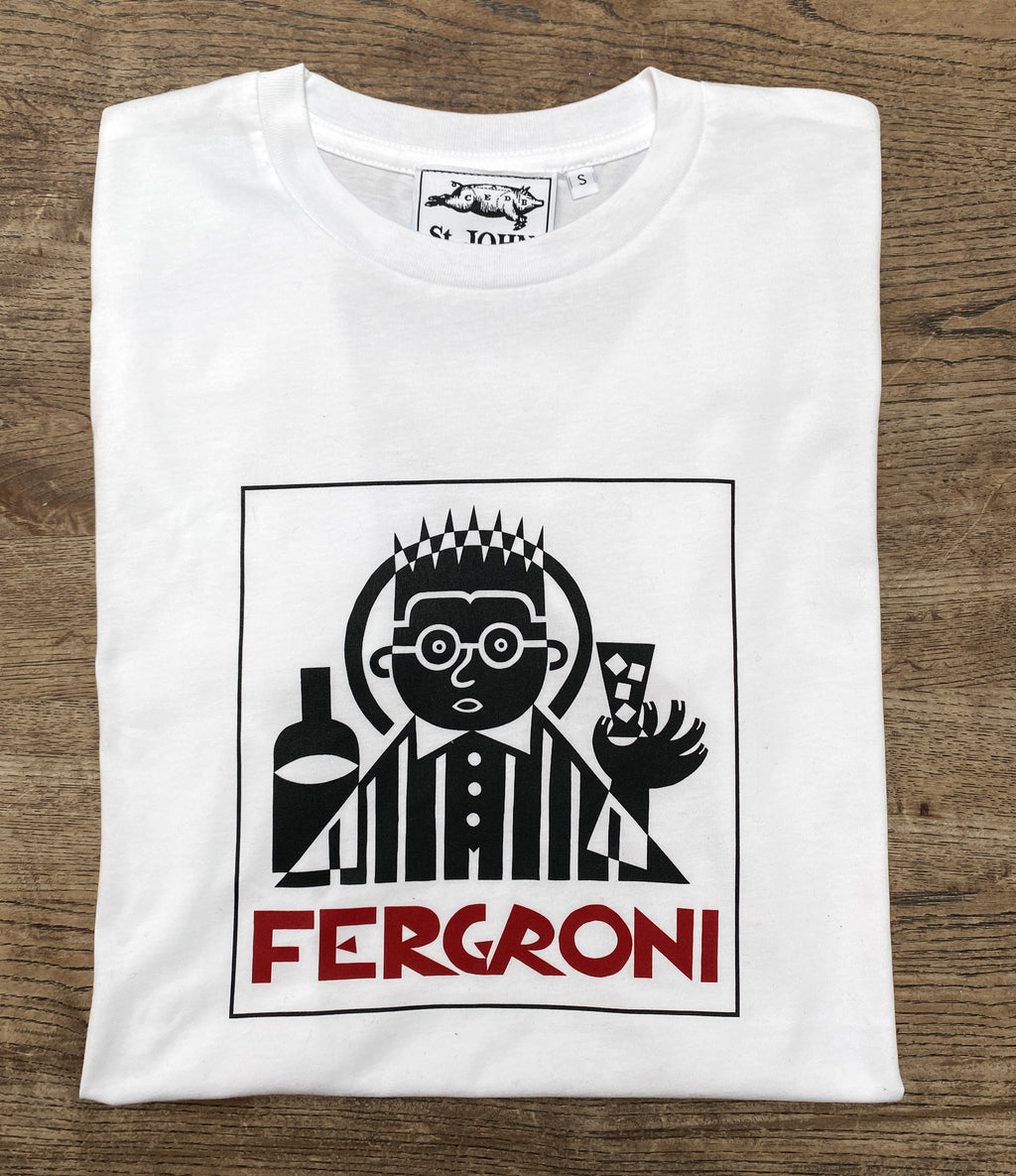 Shipping Information

For all merchandise orders, please allow up to 5 working days for UK (mainland) delivery, and up to 10 working days for international delivery.
Tracking information and updates can be provided upon request.
For merchandise queries, please contact info@stjohnrestaurant.com
As a result of Brexit, please be aware that your order may be subject to local import taxes over which St. JOHN has no control.
---