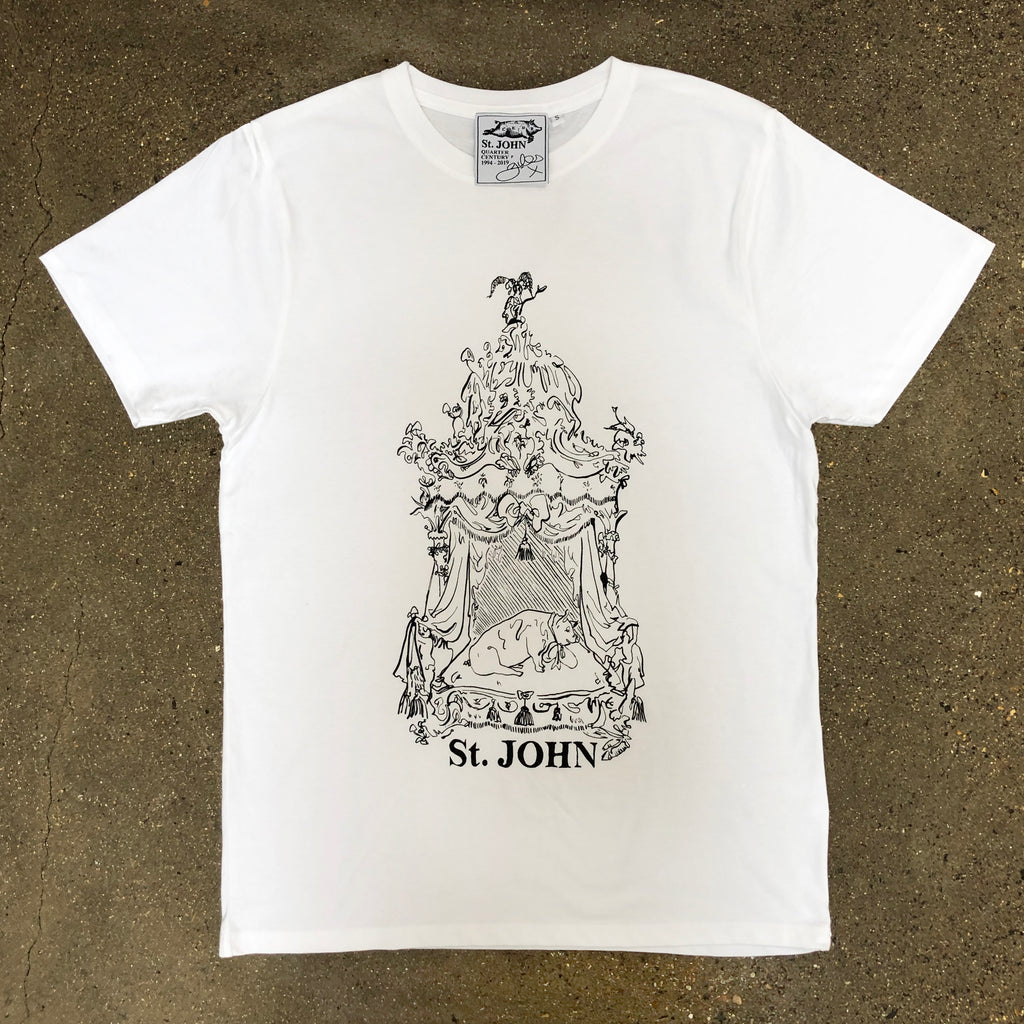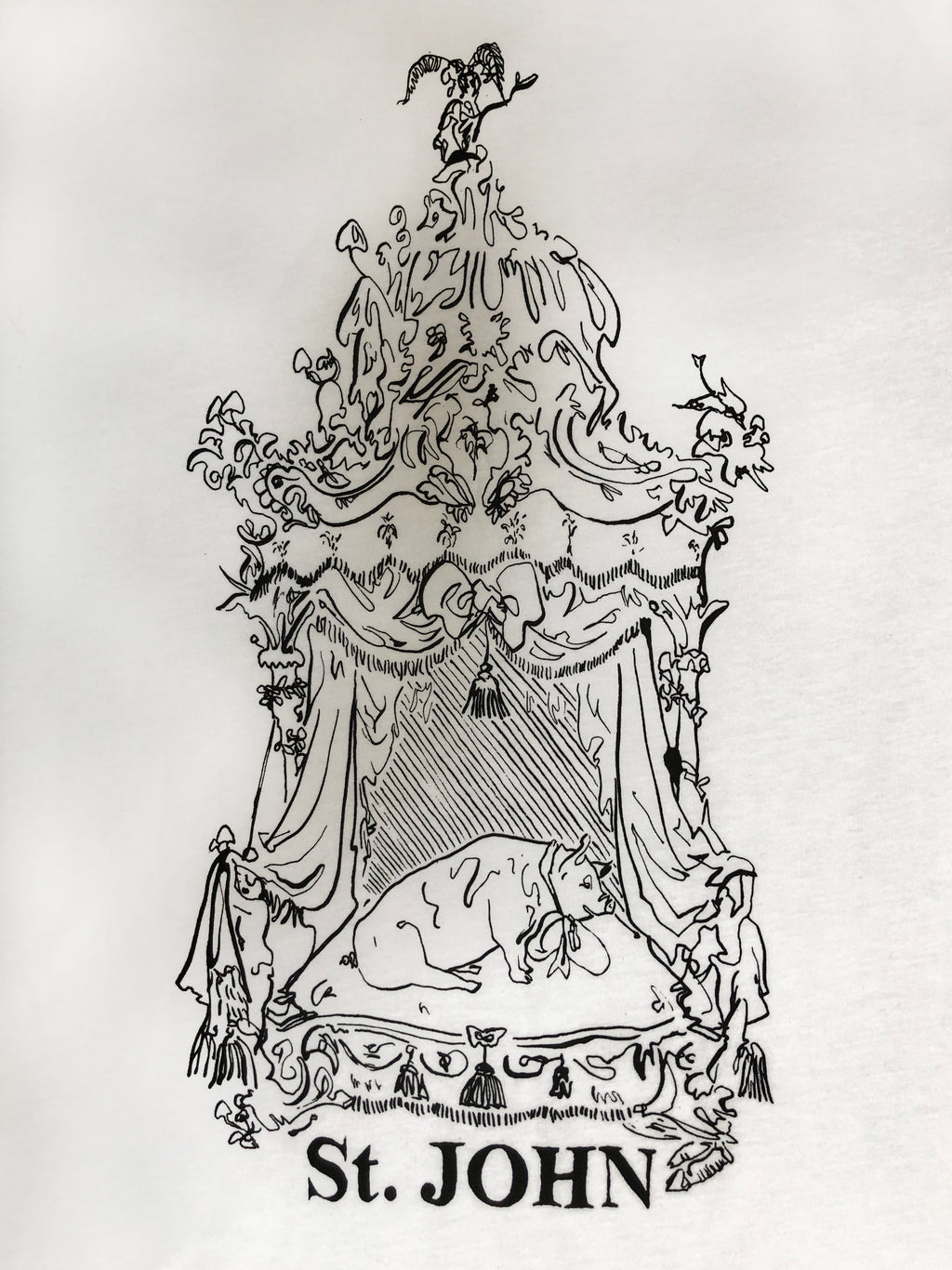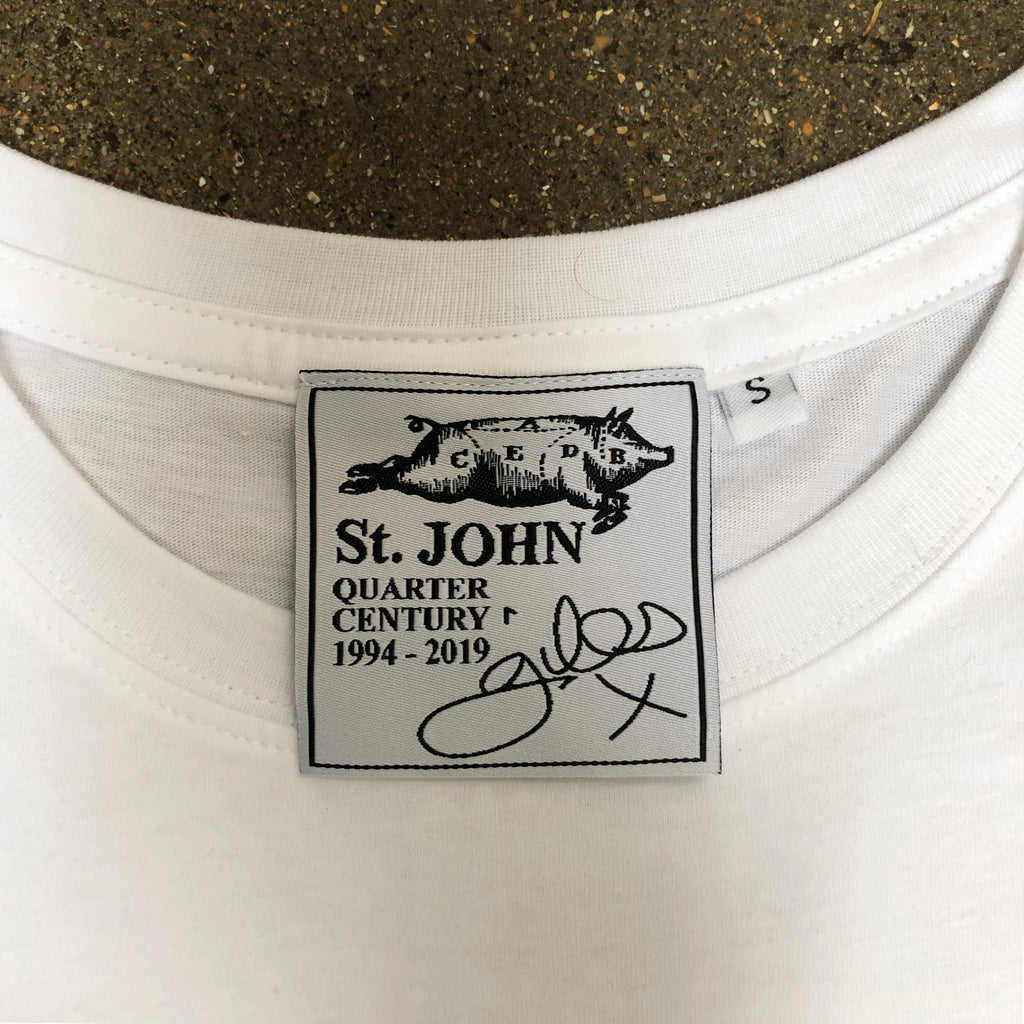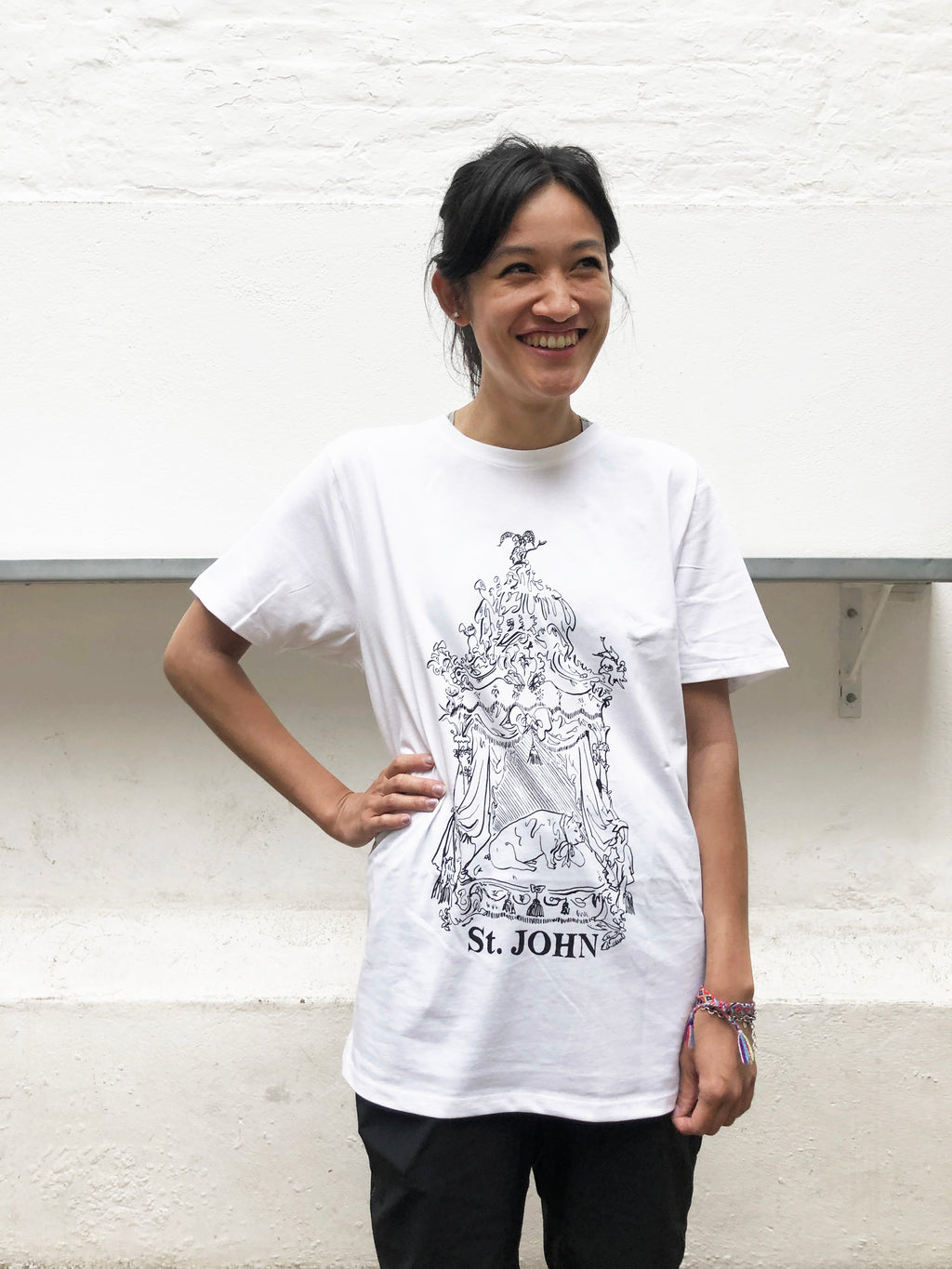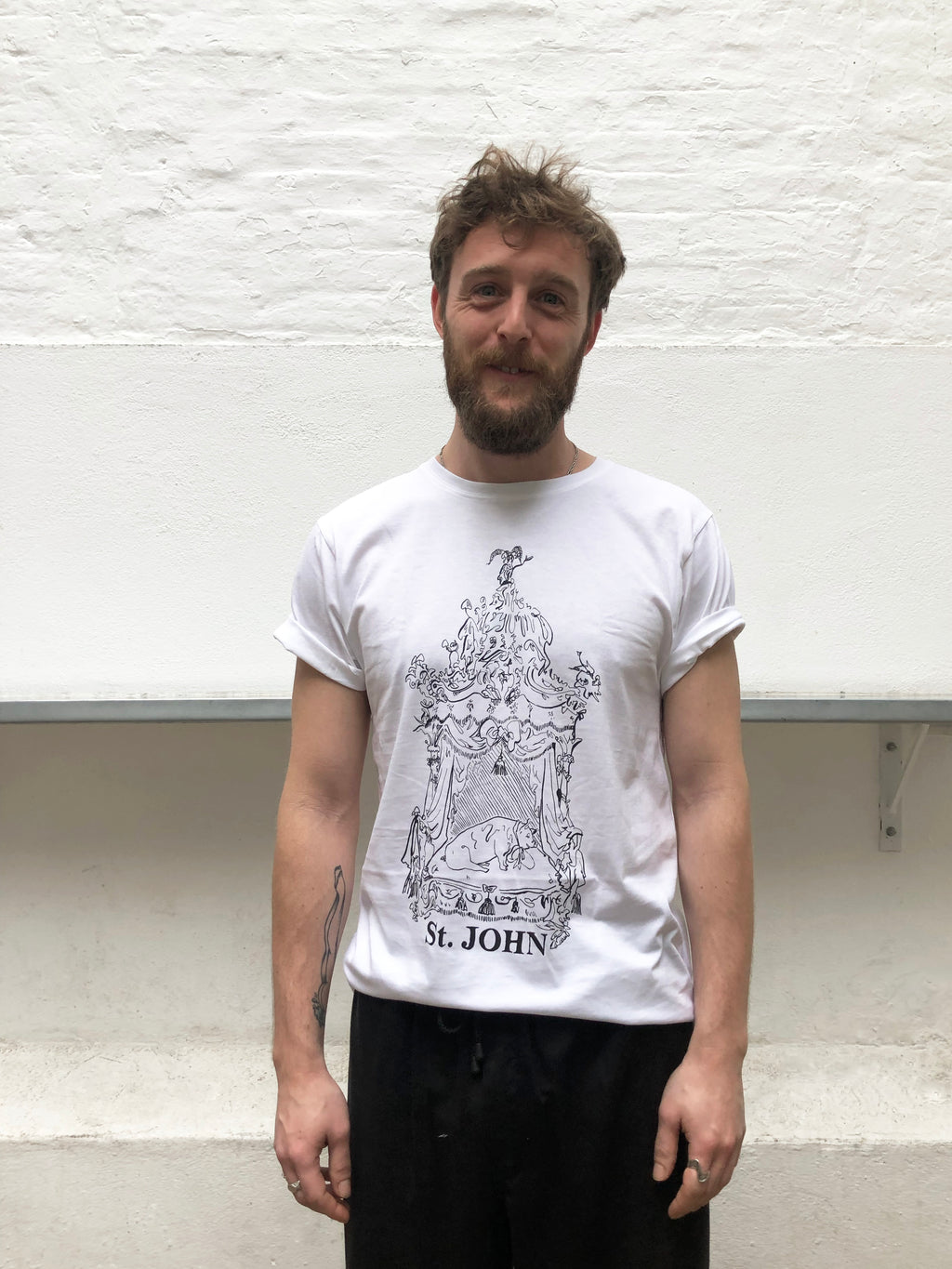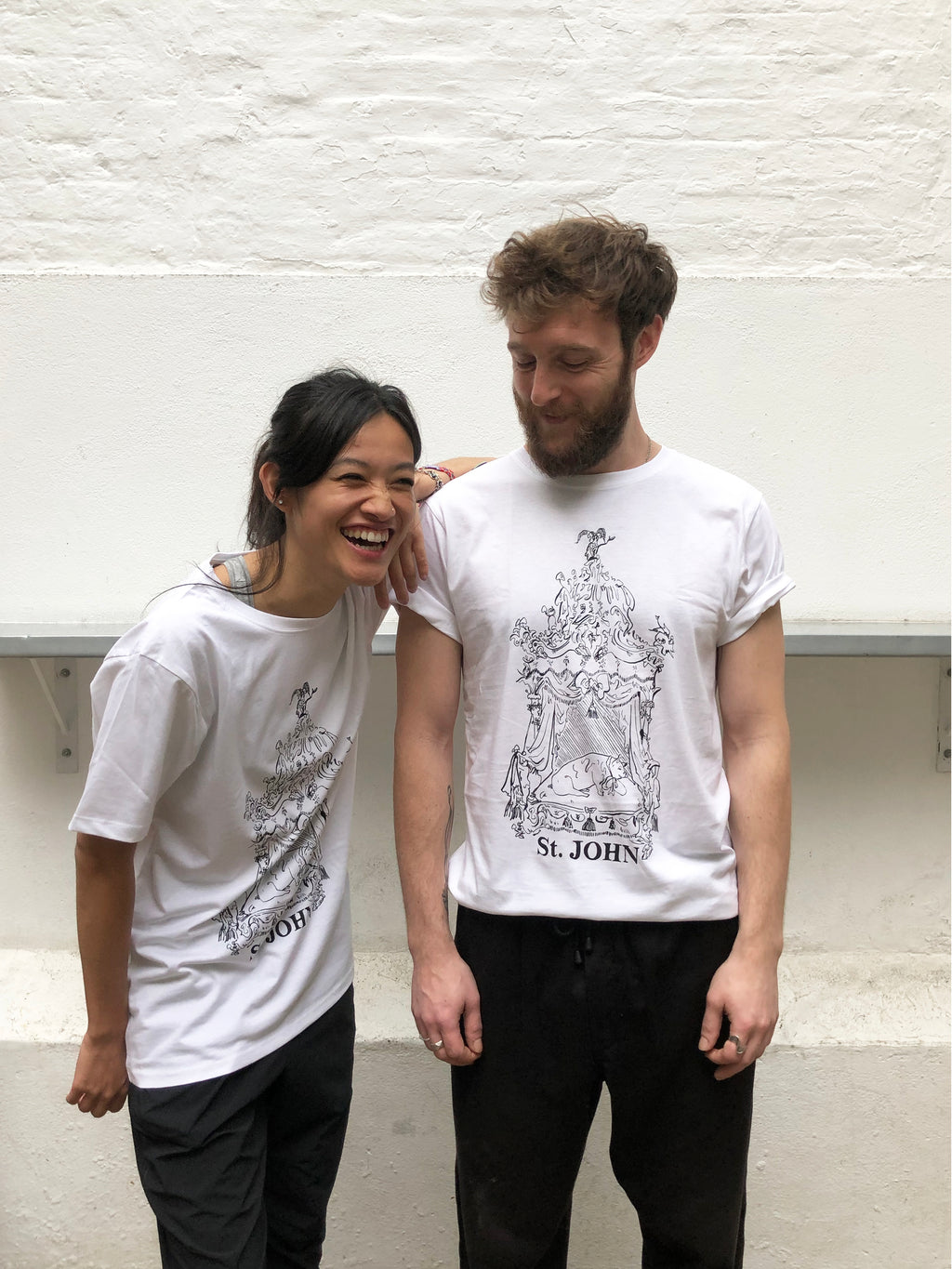 Artist Quarter-Century t-shirt: GILES DEACON
Depicting a beautiful beribboned piggy seated regally on the opulent throne which it so rightly deserves, GILES DEACON's t-shirt puts the glorious pig at the centre of an elegant arrangement of the fabulous fabrics and draping, tassels and trims which are the mark of his own incredible couture.
To mark the occasion of St. JOHN's 25th  anniversary we have commissioned three artists, who have each played a significant part in the life of the restaurant, to design three t-shirts according to their styles, whims and interpretation of St. JOHN. Printed in an extremely limited run of just 200.
Fergus remembers "all those years ago, after the initial flurry of excitement that comes with a new restaurant it could be pretty bleak. We used to stand outside and watch tumbleweed roll down St. John Street – one night I even thought I saw the northern lights. But somehow an extraordinary crew of artists gravitated towards us, perhaps it was the art-free walls that made them feel at ease, and they have stuck with us. Then others started coming too. It is thanks to all of them that we are here. We are honoured." 
That St. JOHN is still going from strength to strength after 25 years is as much testament to the faith of those first customers, as to the faith and vision of co-founders Fergus Henderson and Trevor Gulliver. These t-shirts are a celebration of the vital relationships which are the lifeblood of St. JOHN.
Screen printed on organic, fair-trade ringspun fine cotton t-shirts, made in factories signed up to the Fair Share initiative, committed to pay workers a living wage which is reviewed annually in line with cost of living. 
*Please note our sizing carefully as we cannot accept returns for these items*
SIZE GUIDE:
Small
Chest: 100cm / Length 70cm
Medium
Chest: 106cm / Length 72cm
Large
Chest: 112cm / Length 74cm
X-Large
Chest: 120cm / Length 76cm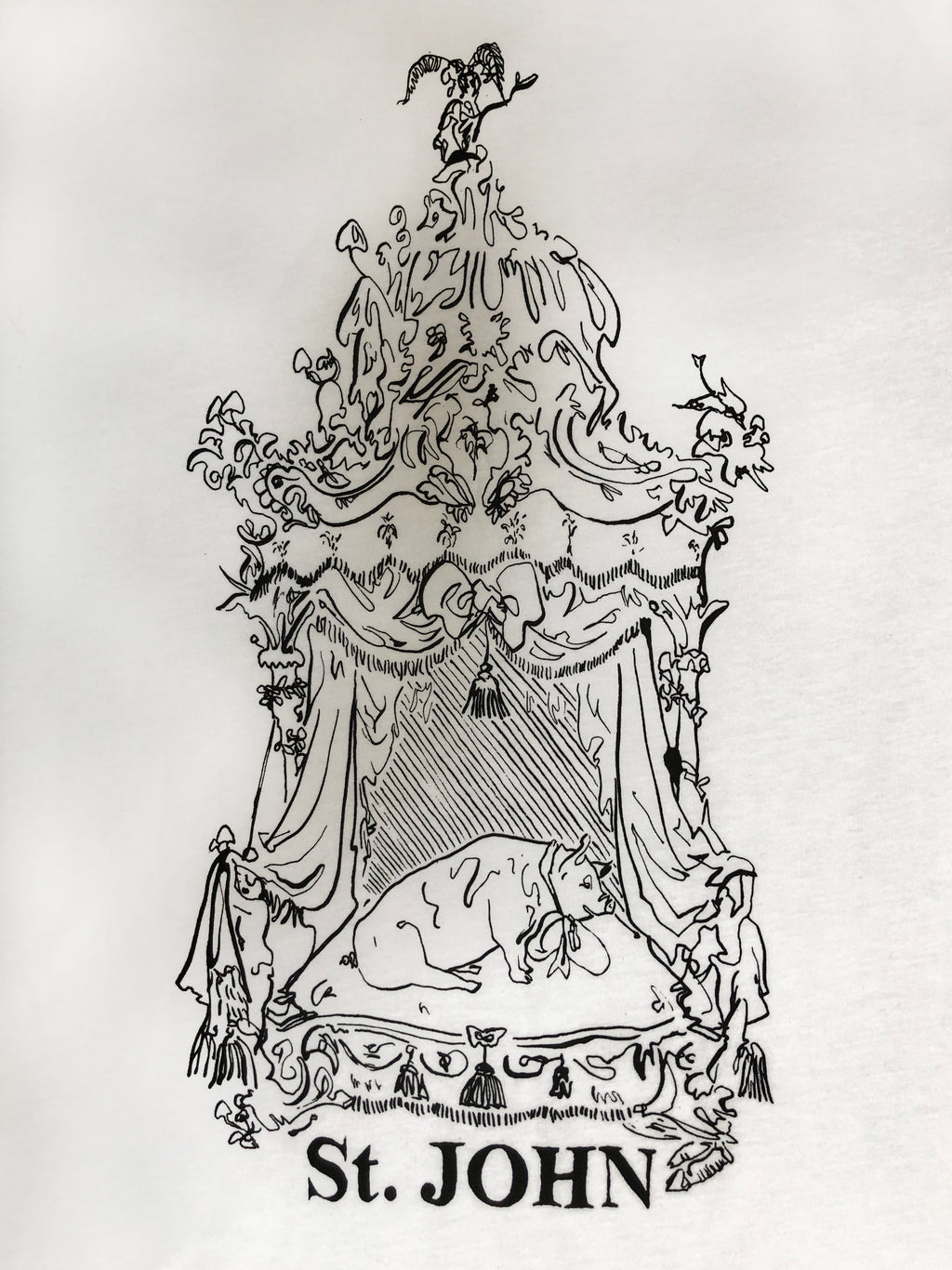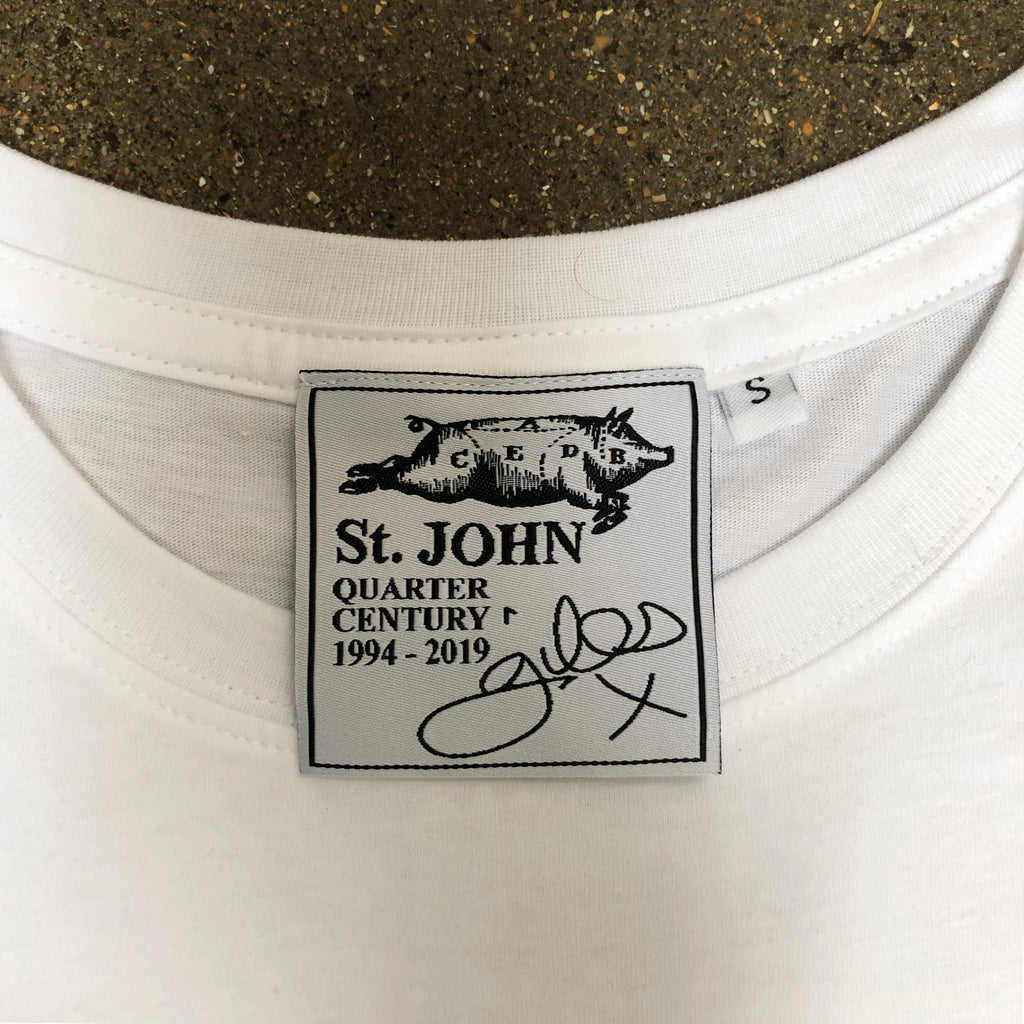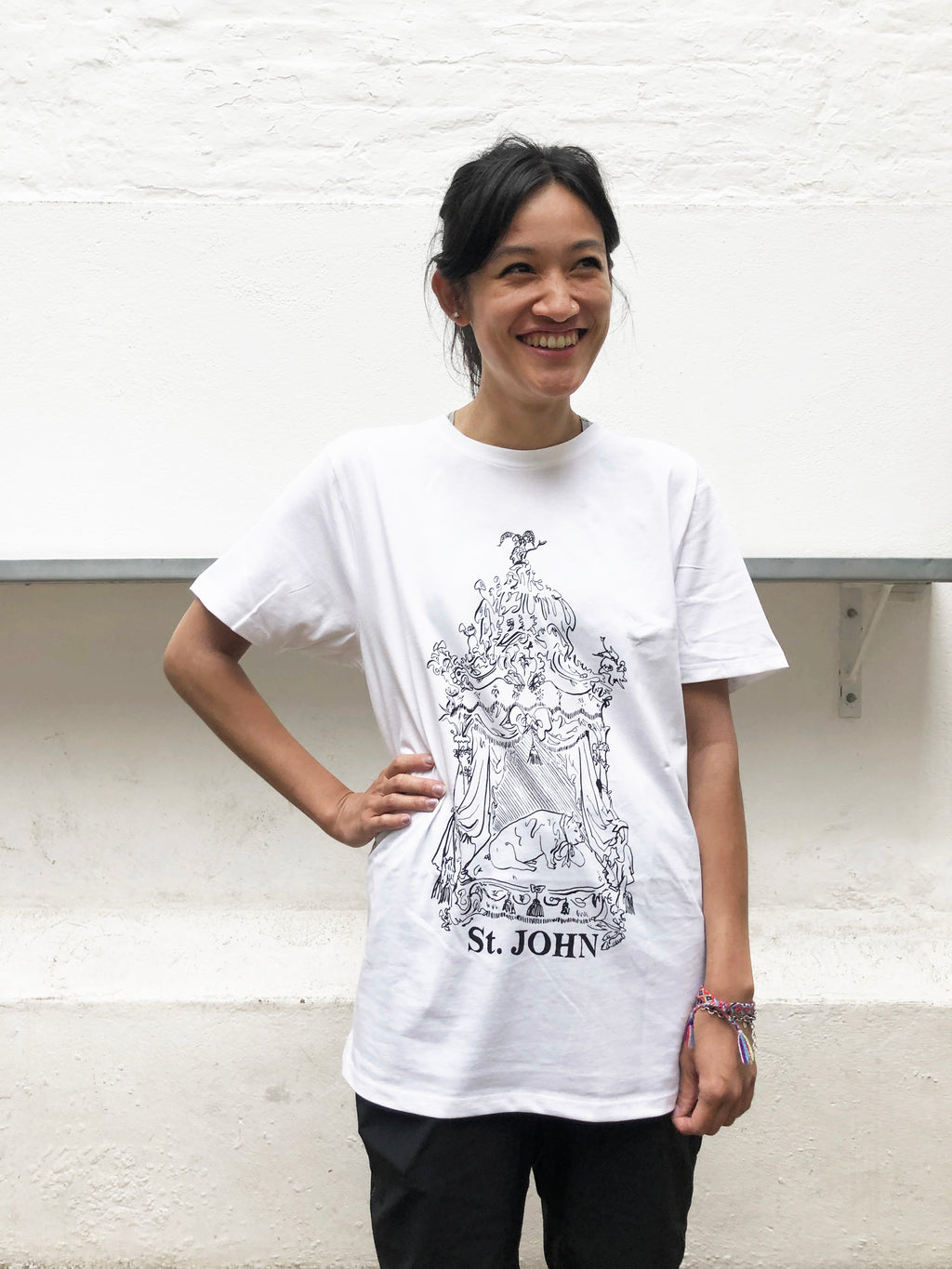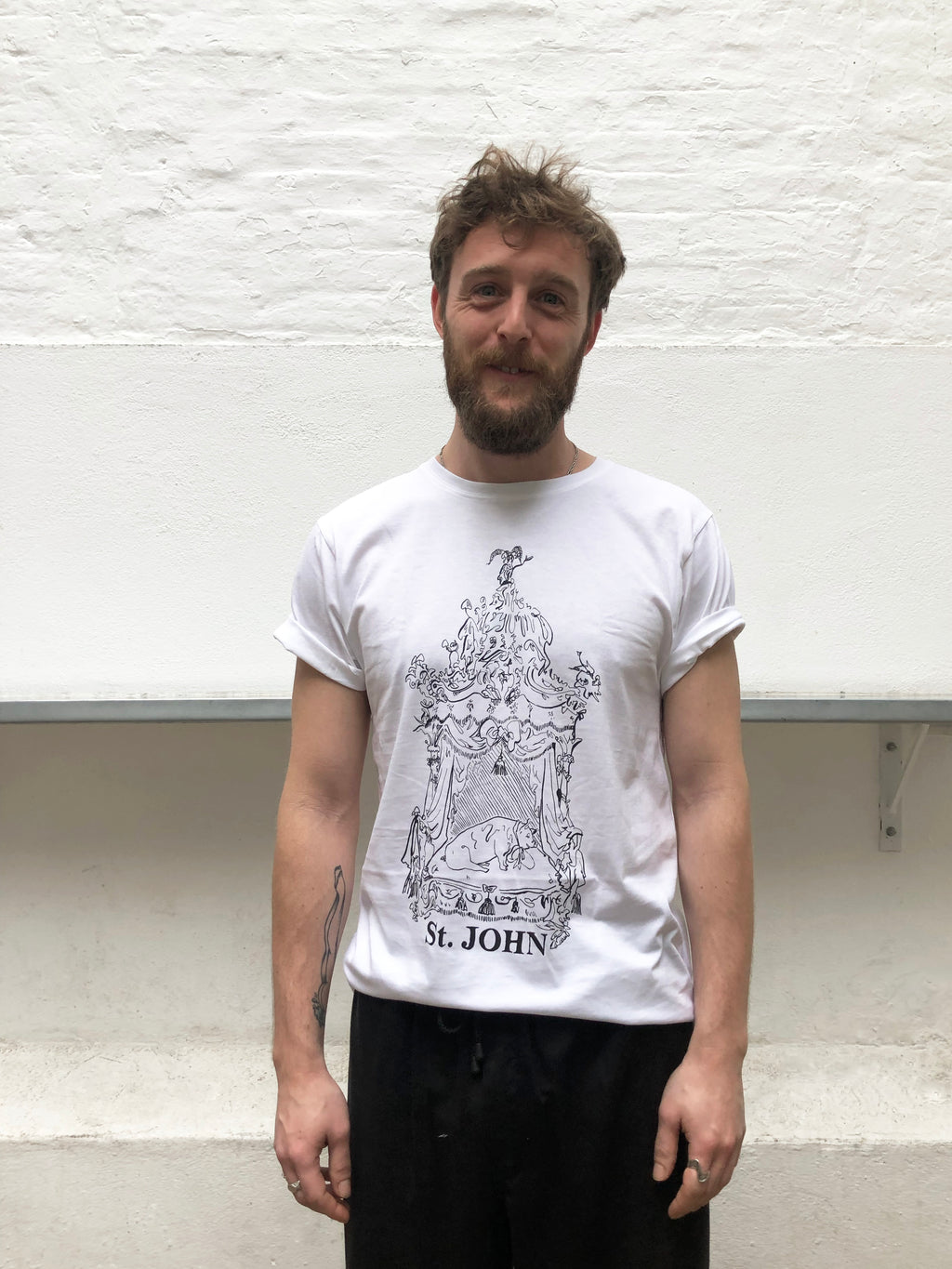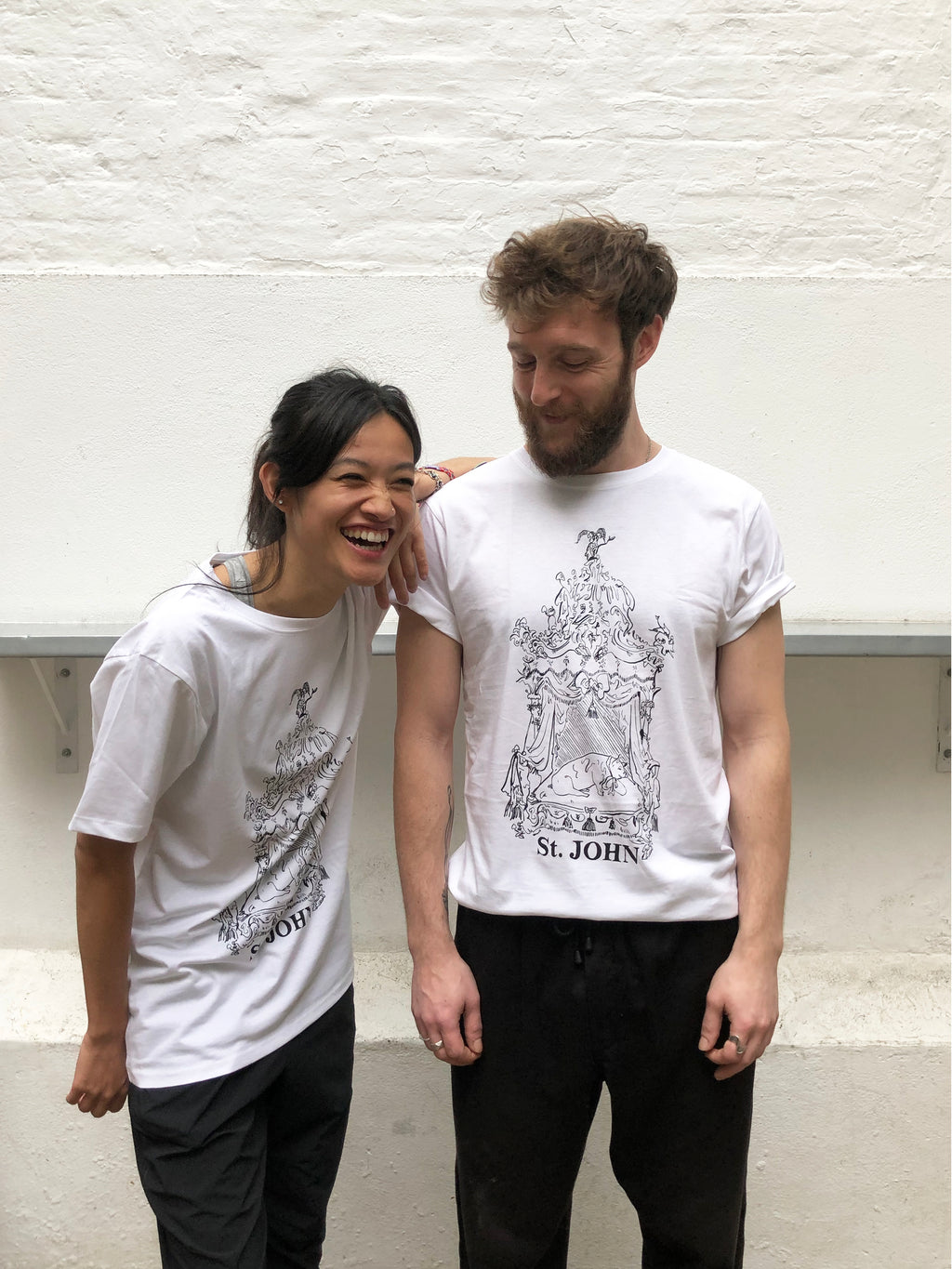 Shipping Information

For all merchandise orders, please allow up to 5 working days for UK (mainland) delivery, and up to 10 working days for international delivery.
Tracking information and updates can be provided upon request.
For merchandise queries, please contact info@stjohnrestaurant.com
As a result of Brexit, please be aware that your order may be subject to local import taxes over which St. JOHN has no control.
---